The truth is now out. At last the world will know the secret behind Donald Trump's incredible, astonishing, death-and-wind-defying hairdo. The terrible secret -- revealed now for the first time to Hollywood Daily Poop readers -- is that the brains behind The Donald's real estate and casino empire is not Donald Trump -- but his hair -- which is actually an alien, extraterrestrial symbiote-parasite from outer space which has attached itself to the head of a rather dumb earthling with horrendous clothes sense and absolutely no taste whatsoever. Yes, all of The Donald's business aplomb, taste in fashion, art and design, everything we know and love about the man is actually the creation and product of the alien thingamajig that sits proudly and obscenely atop his head. Yes, as incredible as it sounds ...
continued on page 687
Cybill appears on British TV show
THE SECRET'S OUT! YES IT'S TRUE!
Phyllis Diller and Cybill Shepherd are the SAME person
As hard as it is to believe, aging comedienne Phyllis Diller and beautiful sitcom star Cybill Shepherd are the same exact person -- for proof, look at the picture above! The two -- or rather, one -- have been living this outrageous, clever lie for several decades now. "I'm glad the truth is out," says Cybill, "pretending to be Phyllis has been a strain for me," while for her part Phyllis -- who is, uh, actually, Cybill -- says "I liked being younger as Cybill. But now that she's started to look more and more like me [again, see above] it's not such a picnic anymore." The two -- er, one -- plan to appear "together" in a new situation comedy for CBS where both -- rather one -- of them will play dual roles. "It's just amazing," says their mutual friend and agent, Claude Eberhard, "that " continued on page 1003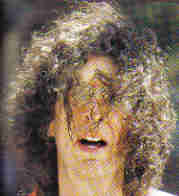 Stern -- still trapped in the sixties
IT'S OFFICIAL: NO ONE ON THE ENTIRE PLANET THINKS HOWARD STERN IS SEXY!
Amazing but true! Howard Stern -- who routinely examines the charms, breasts, and sex appeal of ladies on his show, who has been chastised by the FCC for his sexual language -- is officially considered the ugliest and least sexy male upon the planet. In a poll of 500,000 straight women and another 500,000 gay men (it was reasoned that straight men and lesbians would automatically have no interest in Stern), it was determined that there is absolutely no one on Earth who would actually like to have sex with the famous shock jock. "He would have to pay me like a zillion dollars," said one woman, "and even then I'd have to think it over." One man said, "I have a taste for the bizarre and the outre, but Howard is too much even for me. If he were literally the last man on earth I'd have to content myself with masturbation." Another woman opined: "That hair! That homely face! He's even less appealing than Donald Trump and that's saying something!" It was theorized by the pollsters that perhaps Howard might find sensual success with the alien symbiote that sits atop Donald Trump's head and seems to find Howard attractive, according to unsubstantiated rumors. According to one ...
continued on page 557